Update on Baby Widline
You may recall this little baby, Widline from Haiti. Widline was one of two babies I helped bring to the US for some much needed surgery, through a group I belong to called
Airline Ambassadors
. (I posted about my experience
here
.) Widline, I was told, had a 50/50 chance of making it through her surgeries--they were
very intricate and difficult ones
.
On the ramp in Port au Prince.
I just checked the
Angel Missions Haiti
website, and found a new picture of Baby Widline and an update on her progress:
"Little Widline is doing great! In fact, she is ready to return to her family in Haiti. They have been asking about her regularly and are wanting her home. Thankfully, she has recovered well from her surgery and has grown a good bit...though she is still a small little one. Vanessa is bring her back this week when she flies to Haiti. The report I got was she was happy and eating every jar of baby food Vanessa had in her house, so that is good! Wonder if she will like rice & beans? We can't thank her host family, the Bowley crew, enough for all the love and care they provided for this sweet baby. We know how much work it is to care for these sick little babies and how hard it is to let them go again when they must return. We truly appreciate all they did for her! We will keep you all updated on her progress after she returns to her family."
I hope you'll keep the children and their families in your thoughts as well as the folks at the Angel Mission (and on your donation list!)--they do such good work in a country that seems overwhelmed with so much misfortune!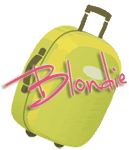 Blondie