NO ARMLESS FUTONNNNNS, EVEEERRRRR!
My friend Shelby is a Flight Attendant, too. She and I share the same love of travel, have no fear of the unknown, and share many of the same interests (wine, shopping & sleeping in!) We have done a couple of big trips together--Buenos Aires, Paris, London--but, trust me when I say we go on the cheap!
We fly on our airline benefits--which are so cheap because the seat is not guaranteed--it is standby. And, you really have to
have a stomach for standby travel!
We do!
In London, we stayed at a Holiday Inn. Flats in LHR are expensive--so, it was more cost effective to stay at a hotel while were there.
We first rented an apartment when we went to Paris. It was perfect for a first time rental: two bedrooms, one bath. Situated in the 14th, it was a 5 minutes walk to the Metro. With that apartment, we learned what we liked and disliked about apartments to rent; what we needed and what was a dealbreaker for us.
I learned to look at the pictures online with a more discerning eye. We don't go for luxury apartments, but we aren't looking for a hostel, either. We want clean, comfy, communications, close and cheap--our 5 C's for renting an apartment.
The Paris apartment suited us just fine. The two bedrooms gave us the privacy we wanted, as well as a living area and kitchen. It was close to the Metro, shops, brasseries, patisseries and a grocery store. The price was just right. One bedroom had a queen bed, the other had a set of bunkbeds. That was my room and the top bunk made for excellent storage space for me! We were never able to get the Internet working there--AOL in French just didn't sign-on like it should have. Other than that, the biggest drawback of this apartment, which was pictured in the listing for it, was a futon instead of a couch.
I never knew I didn't like futons until this trip. Now when we plan our trips, I insist,
a la Joan Crawford
, NO ARMLESS FUTONNNNNS, EVEEERRRRR! Yep, I'm a total bitch about those futons. I want a couch, a sofa, or davenport--whatever you may call it. It also eliminates many of the potential rentals we look at! If I wanna flake out on the couch, I want a place to lean my head up against.
Yeah, it's my thing, deal with it! ;)
Our next apartment was in
Buenos Aires
. Again, we were there in the off-season, and had a fabulous find!
It was two bedrooms, and two bathrooms
in a great location. We were able to have a
neighborhood feel
, with lots of shops and restaurants within walking distance, as well as easy to get to sights we wanted to see. It was the perfect apartment!
Oh, and it had wi-fi! We won't go someplace that doesn't have wireless internet. Trust me, we know we are addicted! But, we don't stuff our days full of touristy things to do. We make a hot list of the things we want to see and do, and cross them off, slowly but surely. We sleep-in, check e-mail, then head out to explore. We check out the neighborhoods, see some cool treasure in that city, have dinner then, work our way back "home". And, at the end of our day, we always have the Internet to chill out with, research our next day's adventure,
twitter with our friends
, or keep in touch with our families.
So, now we're planning our Prague (PRG) trip. Of course, we have the 5 C's as a guideline...but trying to decide just WHERE to stay is our issue. Wenceslas or Old Town Squares, close to all the "action" or a neighborhood near the tram and Metro, where the prices in the restaurants and shops are a little less expensive? And, if we stayed near the center, would we miss a neighborhood feel?
Have you gone to PRG? What do you recommend? Favorite place there? Restaurant? Out a bit in a neighborhood or near the Squares? Do you have an apartment to rent there? Let us know! Just be sure it doesn't come with a futon!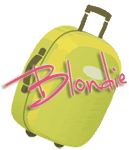 Blondie