Shang-Wow!
Cherie and I flew over from Chicago to Shanghai--a 14 hour flight yesterday. And we arrived tomorrow--or something like that--when we crossed the International Dateline. We were able to score First Class seats on the 747--suh-weet!
Our Flight Attendants were just amazing, graceful and elegant! The Purser, Barbara, has been doing this Shanghai trip for the last four years, and she was more than willing to share her knowledge of where to go to eat and shop. She wrote a big list for us, complete with maps, names of people to see, and which shops do not bargain and which ones do.
We checked into our hotel--which is actually a two bedroom, two bath apartment--it is just lovely. And inexpensive. (Me likey cheap!) It is also in a great location and the really nice breakfast buffet is included. Yesterday, after we settled in, we walked around and bought a Burberry shirt for $6 US. Nice that the Burberry folks sell their stuff so inexpensively here, huh? ;)
This morning we grabbed a cab to Nanjing Road--to the 580 building. This place makes the Straw Market in Nassau, Bahamas look like a church picnic! The vendors are extremely interested in your shopping at their stall. Did I say extremely interested? They practically drag you into their shops...and, if you mention you are looking for something, one of them will drag you up the stairs to a friend's shop. There, the magic door at the back of the stall opens so you can exam the knock-off Coach, Louis Vuitton, Fendi, Chanel--you name it, they have it. And, oh! The deals to be made! EVERYthing is negotiable. And just when I offer a lowball price I offer that I expect to be rejected, the agree to it and WHAM! I am the owner of something I had not intended to buy. These people are pros...and I must look like a big fool!
We are heading over to Xian Dao Ti (or something like that!) to see what is there--it came highly recommended by Barbara. I cannot wait to see what is in store for us there! I have to make sure to turn off the neon sign on my forehead that flashes "SUCKER"!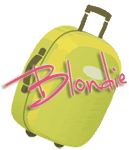 Blondie