The ABC's of Non-Rev Hell
I had the bright idea that I would fly to Virginia Beach (ORF) instead of driving on Tuesday. No need to deal with the terrible traffic on Interstate 95, I'd save time, save money, save gas, save the environment, right? That's right--use those benefits!
I flew down on Tuesday evening--no problem. Had a lovely time with my family. The Most Amazing Child on the Planet had a T-ball game, and I was able to watch him knock in two, count 'em two, homeruns (though they don't count in T-ball, they don't go unnoticed by his Mimi!) While I was there, I didn't have to drive all over the city to see everyone--they all came to me! Perrrr-fect, right?
Not so much!
After running some errands with my daughters yesterday, Casey dropped me off at the airport.
Kiss, kiss, see ya later, call ya in an hour when I get home...
Yeah, right!
At the ticket counter, the agent issued me a "pre-boarding pass" -- it acknowledges that I am listed as a standby for the flight I want, and can be used to go through Security. All I need to do is sit at the gate and wait for my name to be called. The agent even let me know that there were over 20 seats available on the flight I listed for. Plan A was working like a charm!
When called, the gate agent let me know that there was no "jumpseat" agreement with this certain carrier and my Company. A cabin jumpseat agreement is for Flight Attendants to be able to fly standby on another carrier. You are very low on the priority list, and you don't actually sit in the other carrier's extra jumpseat, you sit in a regular cabin seat. This flight was a US Airways "Express" flight-with a regional jet. A different company, Air Wisconsin, operated this flight for US Airways. She made three phone calls on my behalf to be certain...nope, no jumpseat agreement. (Funny, I flew down on that same carrier three days ago...)
No worries the agent tells me! She'll just send me down to Charlotte, NC (CLT), and I can fly to Washington, DC (DCA) from there, all on US Airways mainline, which
does
have a jumpseat agreement with my Company. This is Plan B. A girl's gotta do what a girl's gotta do!
Unexpectedly, Plan C develops! Walking to the gate for the CLT flight, I passed a Southwest flight that was boarding for Baltimore-Washington (BWI). Southwest does have a jumpseat agreement with my Company. Since it is always better to have a non-stop flight versus changing planes, I decided I'd deal with getting home from the BWI airport later. I spoke with the agent and she said the flight had checked in full and that there were three revenue passengers (real, cash paying people) that were trying to go, as well. Going back to Plan B, I walked to the CLT gate, which was just starting to board.
Terrific Flight Attendants, nice new plane--it was on the Embraer-190--it was a really nice flight! Got to CLT and over to the gate for the 5:50 pm flight to DCA--I was #28 on the Standby list! The Golden Rule of non-revving is "Do Not Leave the Gate Until the Plane Pushes Back." I stayed--just in case. Didn't make that flight.
Plan D began to evolve. Grabbed a bite to eat while headed over to the 7:24 pm United Express flight to Washington Dulles (IAD) in Concourse A (from Concourse D). All I needed was one itty bitty seat. Just one. That flight went out full.
Started thinking I was going to be spending the night in CLT. Then I noticed the Delta gates.
Hmmm...
From Atlanta (ATL) Delta generally has almost hourly flights to the airport I want to go to: DCA. And, if I'm going to get stuck in CLT, might as well get stuck in ATL. So, I boarded the flight to ATL, as Plan E materialized.
Once in ATL, I headed over to the DCA gate. The 9:30 departure had a huge standby list--Delta shows it on a screen at the gate, as well as the number of seats available. Easy to do the math--I wasn't getting on.
Time for Plan F.
Thought I'd see if, at this late hour, there was one last flight going to Washington Dulles (IAD) or Baltimore (BWI).
Anything
. If not, I'd find a hotel for the night and start again in the morning--Plan G.
Walking away, towards the Departure Boards, I saw a gate with a flight to DCA. This flight, originally scheduled to leave at 8 pm, was now leaving at 9:05. (And it was already past that time.) With barely a smidgeon of hope, I approached the gate and waited patiently. After boarding everyone, he took my information and handed me a boarding pass! <
insert chorus of angels singing Hallelujah here
> Plan H was my ace-in-the hole, my mini-miracle!
My Delta flight arrived at DCA around midnight last night. I could have driven to Virginia Beach and back in the time it took me to get home yesterday. But, with our benefits, there was no need to deal with the terrible traffic on Interstate 95, and I would save money, save gas, and save the environment, right?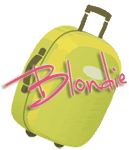 Blondie