See, it's not just me!
Sara over at
The Flying Pinto
, just posted about shower caps for the remote control in your hotel room. And, she linked to
this

Gadling

post
, about the not-so-cleanliness of the aforementioned remote controls.
I feel
vindicated
after my last post! All the creepiness that I feel in a hotel room is rooted in truth--it's not just me!
Just back from a Virginia Beach weekend with my kiddos and the Most Amazing Child on the Planet. I'll post pics in the next couple of days...in the meantime, I'm off for one last
hurrah
before returning to the friendly skies on June 1st. Tomorrow, I am flying to Chicago and will meet up with my friend Cherie. Then, it's off to Shanghai on Wednesday.
My View 1 year ago:
In Denver for a Couple of Hours
.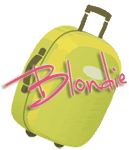 Blondie