Secret hotel habits....
Last year, you may have caught
this video
of how housekeepers in hotels were not cleaning the glasses. Or
this one
...or
this one
...just type in "dirty hotel" into
You Tube
, and you'll find a plethora of stuff you really didn't want to know!
Even before these videos came to light, Flight Attendants have had their own suspicions about hotel rooms. Ask any one of us, and I'm sure you'll find a variety of hotel room cleaning behaviors, before the uniform even gets put on the hanger and into the closet for the night.
Especially me! But, it starts on the airplane.
My cuticles look like hell between manicures. Why? Because I am washing my hands so often and they are overly dry because of the cheap soap in the lavatory and antibacterial hand wash I use. Nothing personal, but, I encounter a lot of funk on an airplane, and I want as little of it as possible! Notice when a Flight Attendant comes out of the lav, she (okay, me!) generally is opening the door with a paper towel in her hand, then holding the door open with her leg, then reaching over and disposing of the paper towel in the lav trash, her hands never touching the door. We've all seen what some passengers (not you, of course!)
leave behind in the lav
and on the aircraft, and many times it is disgusting.
Did I tell you about the time I found a full barf bag (sick sack) left in the seat back pocket while tidying the aircraft between flights? And, that it was still warm? Really, what a nice surprise...
not!
The appropriate way to handle that, and save embarrassment would have been to tell me as you exited the aircraft "I was not feeling well and I was sitting in 17B." We'd understand, and have the appropriate equipment (gloves, anyone?) when we or the cleaners went back to take care of it.
Did I tell you abou the uncapped, used insulin needle left in the seatback pocket? Or the innumerous soiled diapers? Rarely will you find a Flight Attendant who would blindly put her hands into the seatback pocket--we never know what we are going to find in there! (And, neither do you, so open as wide as you can and look before you stick you hands in there, please!)
Have I told you about how teenagers (especially when traveling in groups and looking cool is a high priority) are able to contort their bodies so that their feet are on the tray table? Socked or bare--it doesn't matter. They
claim
that it's comfortable. (I then
claim
that my airline has a policy against it, so get those feet off the traytable, now, please.) Or, how about the parents who change their babies on the tray table instead of the changing table in the lav? Yep, the same table you eat your lunch on the next flight. And, no, they aren't cleaned between flights.
And, all those people with behaviors I am not particularly fond of, stay in hotels. So, I have come to assume that if they do these behaviors in public, then it is probably worse in private. As in a private hotel room.
Thus, my secret habits in a hotel have been honed over the years.
I start with the carpet--before I kick my high heels off, I have already pulled from my suitcase, my little footies. I own a ton of these footies--I pick 'em up at Costco. As I peel out of my pantyhose, I do not let my toes touch the carpet until I get it covered with a footie. Then the next footie goes on...
It is incredible how dirty they are after the end of trip--the footies I have been wearing over the years are permanently stained. I have soaked 'em, used Oxiclean, Shout and any combination of stuff I thought would help--
nada!
And it all came from hotel carpets. No, I do not let my bare feet touch 'em! No way, no how!
Feet safely ensconced, comfy clothes on, it's on to the Clorox Wipes.
I wipe down the remote control. That's not really true--I practically
scrub
it down! No telling what sort of critters are on that! Then it's the handles--door handle, refrigerator (if there's one) bathroom door knob, and the toilet handle. A fresh wipe for the toilet seat--it gets its' own. I usually don't use the clock radio or telephone in a hotel, but if I did, you can bet I'd wipe it down!
Then, it's a towel on the seat of the desk chair--someone may have been sitting there with no clothes on and, well...no, thank you! Just a little barrier makes me feel better...
At my last airline, I was on the Hotel Committee for our Union....the stories I heard about the beds would turn your head. Fortunately, I never ran into finding someone's underwear between the sheets when I crawled into the bed....or, hairs on the sheets, or other
stuff
like that. Or bedbugs. But, I took many reports about Flight Attendants and Pilots that did. Many Flight Attendants pull the bedspread off the bed as soon as they get into the room. I don't do that, but I
do
make sure the sheets are the only part of the bedding that my body touches. Ever. And, of course, the footies go back on when I get out of bed!
After seeing those videos last year, You can bet I don't drink out of those glasses, either. Plastic covered cups, if any, are what I use. (Generally I have bottled water with me...)
And that's about it. Norm thinks I'm a whack job for doing all this. He welcomes any opportunity to build up his immunity system. While I don't agree with his plan, maybe I should just stay off of You Tube?
My View 1 year ago:
I'm baaaa-aack!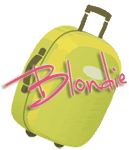 Blondie