My Office Help
Tag team filing by Team Kitty-Kat. Delaney supervising Emmie's filing attempts.
Emmie says, "Great...another manager breathing down my neck...I'm outta here!"
Let's see...j...k...l..m...okay, it goes right here!
(Delaney is a detail girl!)
A kitty's work is never done! A quick break before tackling that mess of computer wires and cords under the desk!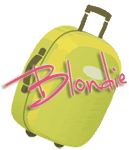 Blondie