Emmie's View
Hi!  It's me, Emmie.  I've been watching the goings on here, and have much to report.  I find a little perch and watch
surreptitiously
(that's a big word for a little kitty, by the way!) 
So far, Linda and Nancy have seemed to have fun.  They arrived on Wednesday afternoon.  My Mom took them on the "nickel tour" of Washington, DC, then they visited the Museum of Natural History. 
They ogled over the Hope Diamond....
And, Nancy tried to pick up a caveman.  She was, unfortunately, not successful.
They met the
overnighting
flight crew at the hotel--Linda, Mom, & Nancy with Flight Attendants Domingo & Mike (the crazy one!)  Captain Steve and First Officer Nick.
They came back home and spent half the night yakking and laughing--they were a mess!  
Auntie Linda cracked me up with the pollen that ended up on her nose!
The ladies have just embarked on their tour day.  They are taking the Metro to
Arlington National

Cemetery
, and they'll get tickets for the "hop-on, hop-off"
Tourmobile
.  While at Arlington, they'll see JFK's and Jackie Kennedy's burial place, as well as the Changing of the Guard at the Tomb of the Unknowns, which is quite impressive.
Tonight, a trip to the Hard Rock Cafe.  Auntie Linda collects guitar pins from there.
I don't understand why they don't just stay home and pet me!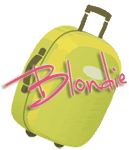 Blondie