The List, The Trips, The Call & The Voice
It's a Valentine's Day Saturday afternoon here in our nation's capitol--an overcast, grey kinda day. My cell phone is charged, my iPod is full of new stuff, and my suitcase is packed. It can only mean one thing: another day on Reserve.
So far this month, I've had a lot of days like this. Waiting for the phone call. The Call. The one where the Mystery Voice tells me where I'm going. Some days it comes early-like two o'clock in the morning early...and other days, well, it never comes at all.
We are able, via computer, to view our position on the Reserve List, and the Open Trips, which gives you a pretty good idea of when The Voice will call. For instance, I went to bed last night after looking at The List and The Trips, and was confident that I wouldn't be called in the middle of the night. There was one trip that started at 6:30 in the morning-and the rest start tonight. I was number 16 on the list. A whole lotta people would have been calling in sick for me to get an early morning assignment. (Basically.)
So, I slept in this morning...fully expecting to have been called while in my additional slumber. And, no...nothing. I have been slowly moving up The List all morning--as The Voice assigns The Trips, names fall off The List and other names move into a higher position for The Call.
It's almost 1:30 now and I just checked the Reserve List. I am now first on The List. There are a few trips that start in the next couple of hours-"turns" (aka "out 'n backs") to Denver, Chicago and another to Orlando. I can't be called for those because The Voice is required to give me four hours notice.
There are several International trips. I
covet
International trips. There, I said it. There's Zurich, Brussels, Paris, Rome, Frankfurt, Dubai, Buenos Aires, Sao Paulo and Rio de Janiero available. Rome and BA need language speakers--so I'm not good for those. These trips all depart tonight, after 8:00 p.m.
So, I'm hoping no domestic crews misconnect. And, maybe, just
maybe
, I'll get an International trip. There
are
benefits to getting some domestic trips--like a short layover in Chicago and flying back the next morning, having to do with credited hours and our contract--but, I'd really like to end up anywhere but there tonight!
Please cross your little International wishin' fingers for me--and I'll let you know when I get The Call what trip The Voice assigns me today.
**updateThe Voice just called--I'm going to Frankfurt tonight!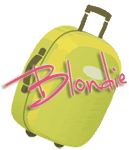 Blondie