A Cruise and a Funeral
Just back from a long weekend cruise. My sister, Donna and I were on Royal Caribbean's
Navigator of the Seas
and spent three days at sea and one day in Cozumel. There is so much to do on this ship and she is gorgeous! We never even got off the boat, instead choosing to sleep in, order room service, enjoy our balcony, shop and have an
omigawd
spa afternoon.
Enjoying the sunset...
Donna
Our dinner partners were a lovely group of people. We enjoyed them a great deal! (Especially Charlie and Shelly--sitting in the front--they were so fun!)
As we started to leave our stateroom yesterday, I realized my suitcase was dragging instead of rolling. Apparently, when I checked the bag shipside with the guys that bring it to your stateroom, it was at the bottom of the cart--and the wheel and housing broke. (Thankfully, my contraband bottle of wine was in the bag, and remained intact!) So, I had to drag my "stuffed to the gills" bag all along the side the ship on the asphalt and concrete on that long walk through Customs and Immigration, then down the sidewalk to the cab...and all over the Fort Lauderdale airport.
She was exhausted and scarred and broken. While in the airport, I did get her a suitcase wheelchair--one of those
folding travel cart
thingees--she needed it. She had given her all in service to me over the miles. From Seattle to Miami; Dallas to Chicago; London, Paris, Rome, Buenos Aires and Tokyo--my girl had stood by my side for all those thousands of miles, hundreds of overhead bins, and all the trinkets and treasures I stuffed into her over the years.
Let's all bow our heads in a moment of silence for my trusty and faithful bag...she's been loyal to me for six years. She was a good bag...
Services will be next Tuesday, when the Recycling Truck comes again, usually around 7:00 a.m.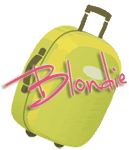 Blondie