No more complaining!
I don't want to hear any more whinin' and complainin' about how bad the airlines have gotten--how the price is too high, there's no food anymore, the seats are cramped, and the Flight Attendants are old...waaaa-ahhh! You should be grateful, dammit! Lookie at
what they're doin' in China
:
That's right...those are
passengers
pushin' the plane, after it broke down. One of 'em is probably wondering how many miles he'll get in his frequent flyer account for this, and another is thinking that the Flight Attendant is going to give him a free drink.
And, the Airline Management Team? They'll spin the story into how the passengers were provided, at no additional fee, a cardio and strength training workout!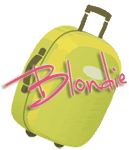 Blondie