Petrin Hill and beyond
One of the loveliest views in Prague is from Petrin Hill. It overlooks the tile rooftops of Old Town (Stare Mesto) and I'm sure that the hill itself is as spectacular as the view when the trees and flowers are in bloom. There is a funicular that will take up you to the top of the 1500 meter hill--but it was under scheduled maintenance when we arrived. Of course!
We hoofed it up Petrin Hill--almost a mile up the steep incline and twisting path. There was an older couple hot on our heels and Shelby was determined that they were not going to pass us! We pushed onward until we arrived at the top. My knees were burning!
At the top of Petrin Hill is a reduced copy of the Eiffel Tower, built in 1891. Standing between me and the top of the Tower is a $3 charge and 299 steps. I was fine with the three bucks--but, after that climb, with its' serious incline--I was in no mood to climb 299 stairs! I waited on a sunny bench while Shelby "took it for the team" and trudged to the top.
Obviously, the most beautiful view in all of Prague!
The rail of the damn funicular that was not in service!
After the trip back down, we wandered the streets and found a great little coffee shop. One thing to note--hot mulled wine is less expensive than a cup of coffee! I'm jus' sayin'...
On Nerudova Street, there was a a film crew and a very skinny actress (not in the picture) who had on a sleeveless dress, and had to walk up the stairs to do her scene. Over and over and over. It was about 40 degrees outside. She had to be freezing!
We decided to go to dinner at
Hergetova Cilhelna
, recommended by our Frommer's guide(which had been spot on so far during the trip.) It was such a tasty meal! Shelby ordered the burger, and I had a pizza. The pizza was like the ones I had eaten in Rome, and Shelby's burger tasted like steak! We both agreed our dinner was delicious! The restaurant is on the Vltava River and the view of the Charles Bridge just simply wows you! I will definitely eat there again!
Walking out of the restaurant and into the neighboring courtyard at the Kafka Museum, we stumbled upon
this David Czerny sculpture
, which we dubbed "The Pissing Contest." (click on the link to see the...um, "action"...)It's hilarious in that the bottom half of the statues' torsos rotate side to side, and their...um..."tools" move up and down. In researching it since I've been home, I found out that you can text message the statues and they will "pee" your text. Well, alrighty then!
While we were there, we found the Metro/subway and tram system incredibly easy to use! (It also helps that Shelby is a
mole
and doesn't need to read any signs--she just has an internal GPS that guides us to the right train!)
We left on Sunday with a plan to drive to Stuttgart, Germany to stay the night at Kelley Barracks, another Army facility. Staying at Kelley Barracks would make our drive to FRA short the next day. On our way out, we just
had
to go to a Czech McDonald's. There they had this little dish of fried cheese and a sort of cranberry like dipping sauce. By the time we got there, we were hungry, so this held us over until we could get to Nurnburg, where we planned on having lunch.
For future reference, it is very difficult to find a non-fast food restaurant open in Germany on a Sunday. Very, very difficult. Etch that in your brain, please. You'll thank me later!
We did manage to find a German restaurant in Stuttgart that was open, and we both had a dinner of salad and ram schnitzel....mmmmmm!
The next day, we headed to Frankfurt, turned in our rental car, and took the train to the airport. On the way back, there were no paying passengers in First Class, just three non-revs. We implored the Flight Attendants to not make a fuss and to enjoy an easy dinner service. Faris is the Flight Attendant who took care of us the most, and she is just about the best I have ever seen! She has an easy smile, is graceful--and funny, too! She did a nice job for us!
Once arriving in Washington, Shelby had to hurry through Immigration to catch her flight home. Knowing how much she wanted to sleep in her own bed that night, I was pleased when she called to let me know she had made her flight back to Columbia. Driving home, I reflected on this awesome trip to Prague! My eyes were opened: the beauty of the city and its people and outdoor artwork was something unexpected--and, I learned the depth of a friendship.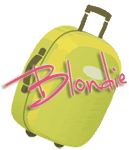 Blondie