Drum roll, please...
Excellent news! My Company worked really hard to avoid any involuntary furloughs--we were overstaffed by 2150 Flight Attendants. They offered voluntary furloughs and partner flying as a way to lessen the pain. The good news is that not one Flight Attendant had to be INvoluntarily furloughed. The great news is...I was awarded 6 months of partner flying with my classmate Sue!! This means we split our month of Reserve in half. In my world, this is nirvana!
Just as I started to type the The Call came...it is almost 9:30 in the morning, and I fully expected to get a call in the middle of the night--it was a gift to wake up a little while ago and still be home. It's one of those feelings where you check the telephone to make sure it still works and that you didn't miss a call in the middle of the night!
Anyway, The Voice gave me my assignment: Frankfurt tonight. Maybe some of my crew will want to go to my favorite place there,
Im Herzen Afrikas
. I was there
last July
and haven't been back since!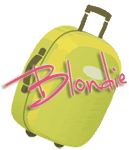 Blondie