Birthday cruise
What a great 50th birthday we celebrated this week!
We started out last Friday meeting in Miami--my kids had a surprise for me--an old friend that I haven't seen for almost 28 years! It was a great start to our week!
We boarded the ship the next morning and began to take a look around the world's largest cruise ship--
Liberty of the Seas
is massive!
A bunch of us went:
My Dad and his girlfriend, Edith flew in from San Antonio to be with us.
The only bad part about this picture is that Casey is not in it! She is in school this summer and could not come with us. (As I reminded her, it isn't our
last
cruise!)
My son Chase with my oldest daughter, Jennifer.
My dear friend Taneesha and her fantastic boyfriend "Duce." I ♥ both of them!
My son-in-law, Liam and my daughter, Jennifer.
No cruise is complete without the obligatory towel animals on your bed in your stateroom every night!
This video is of Taneesha on the Flowrider, which is on the back of the ship--Chase and Duce also did it several times!
(In my best Hermes Guzman voice:)
"Well, wha' ha' happened' wuz..."
Duce being silly with "Molten Lava Chocolate Cake" on his teeth...
Chase and my Little
Cherub
Prince, Brendyn.
Norma, our waitress at
Johnny Rockets,
was the nicest, most sweet woman! I just loved her! (Yes, there is a Johnny Rockets onboard the ship!)
The Nelson Brothers
did a tribute show to their Dad,
Ricky Nelson
.
Matthew and Gunnar Nelson
Jenny bought a CD and got an autograph. She was a happy, happy girl since she had been such a big fan of the Nelsons.
In Saint Martin, we wanted to go to the airport at Maho Beach after we snorkeled, but our snorkel trip was too late in the day to make it over to the airport and back. Had we made it to the airport, we would have seen stuff
like this
.
Next time, for sure! (As well as a visit with Sheila, who lives aboard
And So It Goes
, and writes about it on
All ABout Boats
.)
Just a quick scan of the pool area as we were leaving SXM--with the
tiny
Disney Wonder still at the pier....(I'm jus' sayin'...)
The soon-to-be-setting sun as we left SXM.
Air hockey with Brendyn...
My little
Prince
Devil got a little big in his britches when he said "Bring it, Old Lady."
Oh, no he di-in't....
So, I had to
smoke 'im
in our match--no one calls me Old Lady and gets away with it--not even my gran'baby!
Game on!
7-5, Granny wins....
Take
that
,
Shorty
....
All of us went onto Labadee, Royal Caribbean's private oasis on the coast of Haiti. Divine, awesome, paradise, heavenly
are some words to describe this lush beach playground. Beach chairs, boats, jet skis, parasailing, a kid's aqua park, BBQ lunch for everyone, hammocks in the shade, icy drinks, snorkeling and diving--you name it, it was here. Including a 2,633 foot zip line over water, from 500 feet up.
First we had to "suit up." (Will they ever invent a rig that doesn't make your ass look bigger than it is??)
Chase and Jenny
Duce takin' his picture--bet it's his new Facebook profile picture!
In this room, they gave us instructions...
...then took us up to a mini zip line of about 300 feet, to get us acquainted with the the sensation and the
smack
at the end when the brake system they have set up slams you to a stop.
A truck ride later, we were at the top of the platform, where we had this astonishingly beautiful view of our little slice of paradise!
Breathtaking!
Duce went first....
I went a few minutes later--I was concentrating so hard on maintaining the
starfish
position they wanted us to, that I forgot I had my camera for a bit. Then, towards the end, I had to raise my arms up for the braking--then you see how hard I hit when the camera gets to swingin'...it was a lot of fun!
SMACK!
Norm even managed to make sure I had flowers for our room...
At dinner on our last night, our waiter brought a birthday cake to the table and everyone sang "Happy Birthday" to me. (Thank you, Norm!)
We all flew home and made it there safely yesterday. So much luggage, we needed a cart.
Of course, I--being a Flight Attendant--was able to pack every thing I needed in my rollaboard and tote bag...
(The last two sentences are complete fiction--one of those big suitcases is mine, and one is Norm's.)
I think everyone had a great time. I don't think I will ever take a cruise in high season again--too many kids-teens-were out of control on the ship. And, hot! It was
omigawd
hot in Saint Martin and San Juan...but, it was just fantastic to have people I love with me on this cruise. Norm. And my Dad. And Jenny. And Chase. And Taneesha. And Liam. And Tim. I think you get the picture! It was the best ever!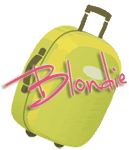 Blondie