Hmmmm...and Uh-oh....
I'm just back from visiting a Flight Attendant friend who is living in South Florida temporarily. I "jumpseated" down to Fort Lauderdale (FLL) on Delta Airlines Sunday morning. The term "jumpseat", when applied to our standby travel, is sorta misleading: we don't sit in the actual jumpseats on other airlines--there has to be an empty passenger seat. My airline has negotiated many "jumpseat agreements" for our Flight Attendants--and while it isn't nearly as comprehensive as the agreements the pilot unions have negotiated--it is a great benefit to have available. (Especially since my airline does not have much service to the South Florida area.)
So, I jumpseated down to Atlanta (ATL) then on to Fort Lauderdale (FLL) with Delta. Had a car reservation at Budget Rent a Car. At the Budget counter, I gave the guy there my driver's license and my credit card. He is busy clickety-clicking on his keyboard. "Hmmmm," he says. Clickety-click, clickety-click. "Hmmmm," I hear again. "I'm new here," he says as he picks up the phone and calls a manager-type lady to help him figure out his "Hmmmms."
The manager-type comes up, clickety-clicks on the keyboard and says, in a very loud voice, "Have you had any moving violations in the last three years?" "Why, yes-I had a speeding ticket in the last year." "Well, we don't rent to people who have had a moving violation within the last three years."
"B-b-but, I made the reservation online and there was nothing that said I
couldn't
rent a car with you." And in a louder, more condescending voice, she booms: "Sorry, ma'am, we don't rent to
speeders
." With that, the manager-type walked away, leaving me with the new guy working the counter.
"Ma'am," he says, "you can go over to Willy-Nilly Rental Cars (named changed to protect the helpful) and they will rent you a car. I used to work for them, and they only check to see if you have had a DWI*--you haven't had a DWI, have you?"
"No, no I haven't--and thank you very much for that information--I appreciate your help!"
I made my way over to the Willy-Nilly Rental Car counter, where a very nice lady helped me. I handed over my driver's license and credit card and she started the rental car process.
We chatted about this and that--and when she asked me where I worked, and I found out that she used to be a Flight Attendant in the early 70's-she flew charter flights back in the days of girdles and white gloves. Then she said, in a most dreadful voice, "Uh-oh."
Uh-oh?
Yes, uh-oh.
She handed me back my driver's license and let me know that it had expired last week on my birthday.
Uh-oh
, indeed!
Dammit, girl!
(I knew it was expiring, but I thought I had until the
end
of the month.)
Well--what do I do now? I need a car to drive up to West Palm Beach to visit my friend-who is without a car while she is there. A cab both ways would surely cost $100 each way, plus a cab to lunch and back. Nope. Not even an option.
The lady at the counter says, "If you have a laptop, maybe you can renew it online."
Brilliant!
Because I already had an online account with the Department of Motor Vehicles, I found a corner chair and using my laptop and the airport's wi-fi, was able to renew my Virginia driver's license online.
Yippee!!
A quick conversation with the Willy-Nilly Rental Car Manager and showing him the web page that proved I had a valid license (since my actual physical license did not reflect that it had been renewed) and I was on my way!
Lunch, a little shopping and two haircuts later--it was good to see my friend! We had such a great afternoon that I stayed longer than I had planned to. While driving back to Fort Lauderdale, I realized I was not going to get back to Washington (DCA) that night--it was going to be too late and there were no more flights. I could make it to ATL or Charlotte (CLT) but decided to stay in Fort Lauderdale, where I used to live and it was "low season." My daughter, Casey helped me make a hotel reservation and I settled in for the night.
Yesterday morning, I had plenty of time to drive East on Sunrise Boulevard and then South on A1A, which gave me a spectacular view of the post-sunrise Fort Lauderdale beach, the wave wall and the palm trees against the morning sky, before I drove to the airport.
After dropping off the barely-obtained rental car, I headed over to US Airways in Terminal 3. Caught a flight to CLT, and then onward to DCA. Always good to be home, but it was terrific to see my friend! I am so grateful for these jumpseat agreements!
*
Driving While Intoxicated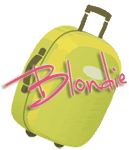 Blondie