Karma? I'm not so sure...
I went to the briefing with my crew going to Frankfurt (FRA) yesterday afternoon. In the briefing, we
choose our working positions based on our seniority
. Usually, the #8 position goes super-senior--the First Class galley is a primo working spot. I was the most junior person of the 12 Flight Attendants--and was surprised that I was left with the #8 position.
Then, the Purser kept talking. And she was selling all kinds of crazy. And control issues?? Not even
Dr. Phil
would touch this chick! Now, I knew why the position was mine--no one wanted to work near her.
Apparently, karma was on my side...once we were onboard and setting up, the Crew Desk called and took me off the flight. They decided we were overstaffed with 12 Flight Attendants on the 777. (Actually, 12 Flight Attendants makes for a really nice service in
Coach
the
Village
.) I sat Standby at the airport for the next 3 hours and came home.
And, I was typing this, the Crew Desk called me with a trip. Guess where I'm going, again? Frankfurt.
Hey, Karma
.....really?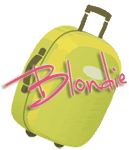 Blondie