Hospital food!
Get me out of here!!
These "eggs" were served to me this morning with a cup of coffee, orange juice and milk. Yummo--not! More like Gross-O!!
I am getting out of the joint today right around my next "serving" of Percocet--around 11:30.
Dad is non-revving back home today...just ahead of the weather we are expecting a little later today. He made his 8:30 flight and will be home by 11:00 am.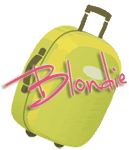 Blondie