Bright white
On the phone last night, my friend, Steve the Pilot, said the picture in my post below made me look all white and pasty. He continued by saying that it must be because I had just been in the hospital and am still getting myself well. I, not recalling the whiteness of my skin, mentioned that the picture was taken in a dark living room, with a flash from 3 feet away...maybe that was why I appeared so pale?
Looking in the mirror this morning, I had to face the facts: I am white. Oh, so white. And bright. So white you can see through the skin on the inside of my arms. Fish-belly white.
While I'd loved to be golden brown, I just don't have the patience to lay out in the sun, nor want the cancer risk.
So, I guess I will continue to be pasty and ghostly.
Whatever.....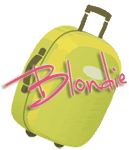 Blondie