Inauguration frenzy!
Inauguration frenzy has begun here in Washington, DC! The hotels are booked to capacity--many people have posted their homes online for rent for the week of the inauguration--even people two hours away in Gettysburg are renting their homes out!
There are some
crazy
listings out there, too! I know you can find a lot of people wanting to rent out their homes for the week--I just don't know how willing people are to pay the prices they are asking.
This listing
offers two townhomes right next to each other, with 7 bedrooms can sleep up to 10 adults. An air mattress will be included! Walking distance to two Metro stations, the owners will provide the renters $500 worth of food and beverages of their choice. All this can be yours for the Inaugural deal of $30,000!
This
home is listed
as a five bedroom with a gourmet kitchen, that is only a mile away from two Metro stations. $6000 per day/4 day minimum, or a steal at $35,000 for the whole week!
This
lovely home is listed
as having 4 bedrooms, and sleeps 6 comfortably. Airport pick-up and drop-off included, as well as luxury transportation to and from the Metro. 10 miles from downtown Washington, this home can be yours for $50,000! Call now!
Finally, even though there is no photo,
this listing
is my favorite:
$1000000 / 1br - Inauguration...I am not a price Gouger...I Promise
I am have small, crappy apartment located in a bad area of town. I have little morals, and am interested in taking advantage of the fact that for the first time in a long time there is genuine hope in this country. That hope will hopefully translate into big dollars for me when you rent my place at extravagant prices.....P.S. I forgot to mention that even though I am gouging you terribly and you probably are not all that concerned with breakfast, I will provide some bagels......Cheers and thanks for looking!!
Only in America...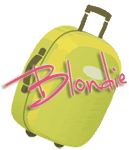 Blondie