Veteran's Day thoughts...
I'm a Navy brat. My Dad served 30 years in the United States Navy, first as an Enlisted man, then as an Officer. Seems like every six months he would pack up his stuff, and we'd take it all out to the ship. I remember walking across the gangway from the pier at Naval Station Norfolk onto the massive aircraft carrier, and I was carrying his
8-track player
. The ropes and lines used to hold this behemoth were swaying with the tide, and the pungent odors of diesel fuel, the ship's g
rey paint, and sea air would combine to announce what I already knew--Daddy was leaving, again.
My mom was not one to hang around for goodbyes, so we'd take his stuff to his stateroom (this was not a cruise ship, ya'll!), kiss and hug goodbye, and then go home. Home to our new life for six months without a Dad around.
We'd send letters back and forth--it sometimes took six weeks to get a letter to or from the ship. Every now and then, he's make a tape on his reel-to-reel/8-track player. Yes, if there had been a You Tube or web cam back then, I am sure my Mom and Dad would have been all over it! There were the sporadic and expensive overseas phone calls--and occasionally he'd finagle a ship-to-shore call to us where we had to say "over" each time we finished saying our sentences. ("School is going great, Daddy. I love you, too. Over.")
Then, the very happy day when his ship pulled back into Jacksonville, or Norfolk, or San Diego would arrive, and we would have our Dad back--for a while. He always brought back exotic presents from all over the world--the beautiful geisha dolls from Japan, the exotic goddess statues from Greece--it was like Christmas to us!
But, soon enough, it was time for him to go again. And, when he wasn't on sea duty, he'd get a transfer on shore duty. We'd pack up and move to a new Navy base, a new school, and new home. We moved so many times during his career--so many times that I ended up going to twelve schools in twelve years! So many times, that he promised all of us kids that we could attend our junior and senior year of high school at the same school. And we did.
He retired from the Navy not too many years after I graduated high school--declining a promotion that would have required another move and another tour of duty at sea. He was keeping his promise to my younger brother and sisters--and we all ended up graduating from the same high school.
Families are a huge part of the sacrifice that our military men and women make to serve our country. Having no control of it whatsoever, children sacrifice their fathers and mothers for a period of time, usually in the most important years of their growing up. The cost can be great. Fortunately, today's military is much better than it was 30 years ago....e-mail is available to almost every service member, phone calls are affordable, as well as web cams so Moms and Dads can read a night-night story to their kids. Still, having a Mom or Dad deploy is tough on any kid.
Today, I thank our veterans and think of the sacrifice they all made and continue to make. I am eternally indebted for their honorable service as they work to protect our national interests. Most especially, I'm thankful for my Norm's 25 years in the US Air Force, my son-in-law Liam's 9 years (so far) in the US Navy, my friend Shelby's in the US Army, my friend Bob's in the USAF and, of course, my Dad's 30 years. I am also ever so grateful for the sacrifice of the families, especially the children, who love their military member. The children pay a heavy price as their contribution to our nation.
These are some pictures from the US Navy Memorial, here in Washington, D.C. Norm, Jimmy, Linda and I visited here in September. Yep, I've been holding out on ya!
(I stole a couple of pictures from the
US Navy Memorial website
, too.)
This memorial is located smack dab in the middle of Washington, DC--Metro stop on the green and yellow lines at Archives-Navy Memorial. I just loved it.
It is a large plaza located on Pennsylvania Avenue and 7th Street--just a short walk away from the White House.


This bronze statue is called "The Lone Sailor" The statue represents the past, present and future Navy bluejacket – adventurous, independent, courageous, self-reliant, and resourceful. His authentic image evokes the lure and romance of service at sea.


This statue is inside the Naval Heritage Center, a part of the Memorial. I don't know what it is called, but, probably something like "Homecoming." This was a scene I grew up with all my life.


Some of the short pillars that surround the plaza at the Memorial have relief plaques on them--depicting various events--recovering astronauts from sea, the first aircraft carrier take-off and landing, and this one depicting a homecoming.


That same day, we visited the US Marine Corps Memorial in Arlington, VA. A symbol of a great Marine triumph, this memorial is a depiction of the famous photo taken by Joe Rosenthal.


I love what Ronald Reagan said once: "Some people wonder all their lives if they've made a difference. The Marines don't have that problem."









While we were there, a young Marine received his commision at the Memorial. It seemed he had some family and friends there with him to celebrate the occasion.


I missed the next photo, but I did get the one that followed...



The newly commisioned Marine dropped down to one knee and proposed to the young lady right there in front of the memorial. Apparently, she said "yes!"

She is another American signing up for duty.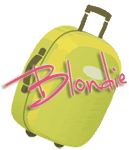 Blondie