The week through my camera
Flew a 2 day trip this past week. One leg to LAS (Las Vegas) and layover for 19 hours. Then DEN-ORD-IAD (Denver-Chicago-Washington Dulles). Had a fun crew, and laidover with Elvira and Larry. We decided to go out, grab something to eat, and look around. We started at the new Steve Wynn hotel, called Encore. Ehhh..it was nothing to look at, really. Just a big hotel with a casino. Astroturf in the gardens. Kinda boring. Didn't even take any pictures of it!
We walked through the Encore, and made our way to Las Vegas Blvd, and saw the Mirage, where
Terry Fator
was starring. If I didn't have to be up so early the next day, I would have tried to get a ticket to see his show.
In addition to Terry Fator, Cirque du Soleil's
Love
, which celebrates the music of the Beatles, is playing at the Mirage.
Larry, one of my flying partners.

The Playboy store
This is a sports memorabilia shop. Disgraced baseball great
Pete Rose
apparently signs autographs here a few days a week.
What an embarrassment! Instead of being a Hall of Famer, he schleps his signature now....
Cleopatra and Caesar inside the casino
Donny and Marie at the Flamingo.

Love them!
The next morning, the shuttle to the airport picked us up and 0440. And, we headed to DEN. Had a 22 year old kid pass out when he stood up on our plane. Just fainted in the aisle. We gave him some oxygen and I asked if he had been out late partying--and he said yes. And that he had a lot to drink. A few whiffs of stale O2 and he was good as new!
I love flying out West because the geography just looks sooo different than the East Coast. Here are some pics of the Rocky Mountains.
Yesterday, I had a day trip. We flew Washington-Hartford-Washington-Raleigh-Washington. We flew over the New York City area, and you could see Manhattan.
That's it---right above the engine....


Tonight, some friends from my old airline are laying over here in Washington, and we are all going out to dinner tonight. Tomorrow, I start five days of Reserve, so who knows where I'll celebrate new Year's Eve. More than likely, I will be in bed, fast a sleep, at the stroke of midnight! So, until the next post, Happy New Year!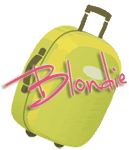 Blondie