Inside Flight Attendant training
Here are a couple of 3 minute videos about Flight Attendant Training.
This video
was filmed at the American Airlines Flight Academy, in Fort Worth, Texas, where I trained for flying with American Eagle.
Here is a
video for Delta
--with Joel Stein from Time magazine. Delta's facilities are in Atlanta, Georgia.
Which reminds me...my annual Recurrent training is coming up soon..."release seat belts, leave everything, come this way..."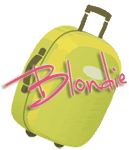 Blondie