Singing grandbaby & dancin' girls
My daughter, Jennifer and I are in Honolulu for a few days. I was able to "steal" some video and pictures from her camera--including this video of The Most Amazing Child on the Planet, singing "Jingle Bells" in the shower:

Alright...back to our regularly scheduled blog....
Jen and I non-revved to Honolulu (HNL)...well, we actually had to non-rev to Maui (OGG), spend the night, then fly to HNL as
regular paying passengers! (GASP!!)
The flights to HNL were full, so we had to develop a Plan B.
This is the view from our room--we are staying at the Hale Koa, a military recreation facility. The grounds here are just gorgeous--thick and plush.
Friends that I used to fly with, Abbe and Kevin, came by to have a few drinks with us. I had so much fun seeing them again!
We went to a luau last night--here are a couple of girls stringing leis together.
He's always one to appreciate beauty, so I'm posting this video of pretty, half naked, dancing girls for my Dad.
Weather in the continental US promises to make non-revving home Thursday an adventure (shakin' my head!) Cross your fingers for us!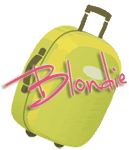 Blondie