Binhog
I have a friend who flies for another airline--and she makes these really cool, embroidered luggage handle wraps. From her
website
:
These unique luggage handle wraps are a great way to ID your bag quickly in the overhead bin, on the luggage carousel, or in a crowd. Use them on roller bag handles, laptop handles, backpack handles, or even straps etc! Wraps won't rip off handles like some ID tags do. They make great gifts for family & friends!
I have this one on my suitcase, and people were cracking up about it tonight on my flight home from DFW. (Or, they could have been laughing about all the other crap I hang on my bag to differentiate mine from yours...)
I should get this one--to feed my inner pirate. Or, is that galley wench? Whatever....
aaaaaaarrrrr
!
Let the Patriot within shine through!
I bought this handle wrap for Norm, who is a retired US Air Force pilot.
I should have ordered this one--I didn't see it until tonight! I really need it for my trip to Hawaii with my daughter Jennifer on Saturday!
Check out Rita's website,
Binhog
!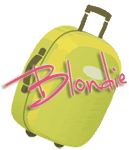 Blondie