Quick two day trip
I'm back from a quick two day trip...it was nice because the Crew Desk didn't call until 9:30 in the morning--a departure from the normal 2:00 in the morning phone call from them! I was assigned an "open ID" which means "here's what we've got for you so far, call us when you get there and we'll let you know what we want you to do."
Met my crew at the plane and we did one leg to Denver. When we landed, the Crew Desk sent us to the hotel--they didn't have anything for us to do for the rest of the day. Nii-iice! And, it was a downtown layover of 22 hours. Even nii-iicer! As many times as I have been to DEN in the past year, I've never had a layover there. And, it was especially nice to be staying downtown, instead of the usual airport hotel!
The two other Flight Attendants with me, Josh and Amy, were fun to fly with. Josh has the scoop on just about everyone and loves to share it--and Amy made no bones about it: at 21 years of age, she was looking for a husband! (My inner Mom was screaming "nooooo!") Anyway, we met at the hotel lounge and "debriefed" with an adult beverage. Afterwards we walked to the
16th Street Mall
, and because neither of them had ever been to one before, we had dinner at the
Hard Rock Cafe
.
The 16th Street Mall looks like a very cool place to explore--an outdoor mall, with tons of shops, it would have been fun to see more of it. All the trees were covered in blue lights and the scene was so pretty! But, it was late and most places were closing, so we headed back to the hotel.
Yesterday, we flew DEN-OMA-ORD, then deadheaded (rode as passengers) back to Washington, DC. I was somewhat bummed to miss the Super Bowl--not because I care about football, but because I missed the commercials!! We arrived at IAD at 11:40 p.m. and it was 1:15 a.m. before I got home.
My suitcase and totebag are still by the door. I am "good" for 4 more days--though, being on page 7 of 8 on the Reserve List, it is fairly unlikely I'll be used today. So, today I'll be hanging around the house--and I'll surf the 'net so I can see the Super Bowl commercials I missed yesterday!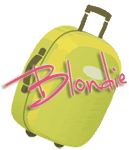 Blondie