I wanna go back to Regensburg!
Our trip to Germany and the Czech Republic was terrific! We had so much fun and saw another gorgeous part of the world. Prague has officially replaced Paris as my favorite city!
Shelby flew up from Columbia (CAE) and we settled in to wait for the Gate Agent to give us our First Class seats. While we were waiting at the gate, a cutie pilot came up to us and asked if we were non-revving to Frankfurt (FRA). Why, yes...we are! He then handed us a Dunkin Donuts goody bag, courtesy of
Sherri
, our Flight Attendant friend on Twitter (and my colleague)! She had tracked us down and made sure to our trip started off with a sweet treat!
Can you believe it? The Company
actually sold paying customers inexpensive upgrades for this flight!
The nerve! Didn't they know we were standing by for a comfy seat! We did not get our seat in First Class, and opted to standby for the next two flights to FRA. We got out on the last one, a Boeing 777, in First Class. Worth every bit of the wait!
You may recall that we plan on entering the
National Geographic Peep contest
--here is our Peep with a glass of champagne and the menu when we boarded. He was comfy!
Our flight over was great--the Flight Attendants were very sweet and were enjoyed a nice meal and some good wine!
Arriving in FRA a few hours later, we took the train to the main train station--because, while Enterprise Car Rental will pick you up--
they won't pick you up at the Frankfurt airport!
You have to meet them halfway! The very nice man at the car rental place then started to explain that they had no GPS for us to rent--even though we had reserved one. After we balked a bit, he decided to find another car, with a built in GPS. A Mommy-mobile!
As Shelby says: "Hell to the NO!"
And, to add insult to injury, the GPS was only in German. They didn't have the CD to upload the English. Deciding that we weren't gonna be pushovers, he asked us to wait, and they would have one sent over to us.
God bless Garmin!
After being in the rental car agency for a couple of hours, we were now on our way with a cute VW Fox and our Garmin GPS. Off to Grafenwoehr--the US Army base several hours away that we would be staying at that evening. Shelby is a US Army Reservist who has been serving on active duty (full-time) for the last three years. She is currently outprocessing to return to her Reserve (part-time) status.
Having never been on the autobahn before--it was sorta freaky to see people whizzing past as fast as they did! But, the Germans have it done well--people in the left lane move to the right when anyone is behind them--it is all so organized and efficient. We could certainly take a lesson from them!
Arriving at Grafenwoehr, we settled into our room, and went to the commissary and PX to "lay in supplies." We picked up snacks and wine and shampoo--just stuff to have when we got to Prague. We both got a good night's sleep--amidst
the sounds of freedom
on that Army base: artillery being shot on the firing range. Yep, they were practicing out there in the distance. Like the good Navy Aviation brat I am, who sleeps soundly with F-14's screeching overhead, it lulled me to sleep. The sounds of freedom, indeed!
After a quick breakfast the next morning, we headed off to Regensburg, Germany. Shelby and her husband had been here before, and she wanted to stop in. I am so glad we did! It is a "cute as a button" town on the Danube River--with lovely shops and historic buildings and architecture from many centuries ago. It was a lovely afternoon there, and I would like to go again, one day.
(photo from codyduncan.com)
Yes, I'd like to go back to Regensburg one day. Not for the quaint shops selling
traditional German
garb
, like this dirndl in the window....
Not for the coffee shops and restaurants that even put out a blanket on the back of the chairs to cover your legs on a chilly day....
Not for the stone bridge built in 1146 (that is 863 years ago!!) or the cobblestone streets, or the beautiful Danube River....
No, I want to go back to Regensburg to eat at this
tiny, 500 year old restaurant
!
This picture shows exactly how big it isn't! I took this from against the wall. Located on the riverfront at the Stone Bridge, the menu gives you a couple of choices: 6, 9 or 12. I chose 6.
And this is what I got! Seriously, one of the best meals I have ever eaten in my life! The smoky brats were grilled and the sauerkraut was fresh and tangy! There was a line outside the restaurant to order this meal, and now I know why!
THIS is the reason I want to back to Regensburg!
Tomorrow, the drive to Prague!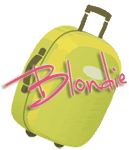 Blondie