We didn't mean to be ugly Americans!
For the last week or so, Shelby and I have been pouring over apartments to rent for our upcoming trip. We have scoured the Internet, high and low, looking for the one special place. I'ved been so hunched over the computer that my shoulders are tight! We're leaving tomorrow, and
think
we have the place that we want, but won't know until the office opens for business tomorrow morning. Like I told Shelby,
"I ain't skeered!"
While we're there, we're bringing some Peeps to enter the
National Geographic Peeps in Places Photo Challenge.
Shelby has already "laminated" , if you will, our Peeps...so, stay tuned to see what we come up with!
We're flying to Frankfurt on an evening flight tomorrow. From there, we are renting a car and driving to
Grafenwoehr
and will stay the night on the US Army base in their lodge. The next day, we are going to
Regensburg
, a city that Shel has wanted to to go back to for a long time. She tells me "it's charming and there's shopping." That's all I need to know!
From there, we'll drive to Prague, and hopefully the apartment we want will be all taken care of. I told you earlier about our hunt for apartments--our requirements and such. It all started with our first apartment rental--our
learning
apartment in Paris--and while it was perfect for our first time, I don't think I'd stay there again.
While we were in Paris, we did all the touristy things as well as shopping and neighborhood walks. We had a really cool, spacious place to come home to--with coffee and breakfast in the morning and wine in the fridge in the evenings.
We both adore grocery stores in other countries--and were able to stock our little kitchen with goodies. We shopped at the neighborhood patisserie and had fresh pastries each day.
An inexpensive floral shop was right on the corner, so we had fresh flowers.
Of course, when in France....
By far, the best day we had was the day we took the Metro and saw where Moulin Rouge is. The neighborhood (Pigalle, right?) is a bit rough--but we shopped and shopped until our feet couldn't carry us anymore. Several shopping bags in hand, we found a great restaurant--a cute cafe on a corner--and settled in for a long lunch.
We ordered a .5 liter pitcher of wine. And, oh! The lunch! Scrumptious! A very thin petite steak with a fabulous sauce and fresh salad, it was one of the best meals I've ever had. The City of Lights with a precious friend, a great meal and a....wait! What's this? Our .5 liter pitcher of wine is empty...."Y
es, please, we'll have another!"
We were laughing and sharing that amazing moment in our lives--two friends chatting in a Paris cafe over a great meal, people watching in such gorgeous weather! "
Pardon moi, Monsieur, we'd like another pitcher of wine, please..."
Needless to say--we were in very
high
spirits that afternoon. And, the wine was being served in very inexpensive ceramic pitchers--ugly green, and couldn't cost the restaurant more than fifty cents a piece. And, I wanted one for the memory!
In my very best French, with my slight Southern accent, I asked our waiter:
S'il vous plaît, monsieur, je voudrais....to buy this pitcher.
(Trust me, that's about all the French I can manage!)
He replied immediately..."
Oh, no, Madame, it is not for sale
..."
"S'il vous plaît, monsieur...I am willing to pay what you want for it...""Oh, no Madame--it would cost at least....uh...two Euro--and we don't sell them.""S'il vous plaît, monsieur, will you ask your owner or manager?"
You would have thought I had asked him to stick a knife in his leg with that question! He
haaaarrruummpphhed
us as he turned quickly on his heel, to search out the owner or manager.
Not knowing we could see him, he was just hanging out on the side of the bar, by himself. A moment later, he came back, having spoken with no one.
"Madame, I am sorry. The manager does not wish to sell it."
Whatever, dude...
So, Shelby and I continued our lunch, forgetting the whole episode...just two friends in a Paris cafe.
A bit later, wine fully kicked, we paid our check. As we were standing up to leave, Shelby finished the last bit of her wine with a big gulp, and said "
Nette, you deserve this pitcher
." In one fell swoop, she nabbed the pitcher, plunked 10 Euros down on the table, and stuffed the pitcher into her shopping bag, and we nonchalantly walked out.
Please, no lectures. I know we were ugly Americans that day. I went to
confession
over it. And, I promise it will never happen again.
But, lookie what I have!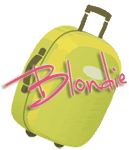 Blondie