Proud Mama
Casey, my 21 year old daughter, is a full-time college student. She also works almost full-time for a hotel as a waitress, hostess, and doing room service. She decided to work for a sister property at the oceanfront to see how she liked dealing with the tourists, instead of the business guests she's been working with for the last 4 years
Yesterday was her first day at the beach property, and she ended up working a double shift. The restaurant closed at 10 p.m. last night, and while they were cleaning up, a family walked in and asked if they were open. Casey said they were not, and the Mom of the family made a comment--something to the effect of "just wanting to get the kids something to eat, they are pretty hungry."
Casey said "Hang on, I'll be right back." She went into the kitchen and made two peanut butter and jelly sandwiches and grabbed a couple bags of potato chips to give to the kids. The parents were thrilled when she returned!
At the same time, there appeared several more people at the restaurant door, looking for something to eat. Casey heard one of them say "distressed passengers" and she sprung into action.
Apparently, a Delta flight from Atlanta (ATL) to New York City (LGA) had smoke in the cabin and the flight diverted to Norfolk, VA (ORF). The passengers were put on a bus and sent to the hotel to spend the night, until Delta could get them out the next day.
Casey and the rest of the exhausted employees in the kitchen and dining room re-opened the restaurant for these passengers and made sure they all got a bite to eat before they went to bed.
How many times have you shown up at a store 10 minutes before closing time, and they tell you it's closed already? I see that kind of crap all the time! They didn't have to do any of what they did--there was no manager telling them what to do. They just did. Okay, she didn't donate a kidney--but, I am still very proud of her actions and those of her colleagues.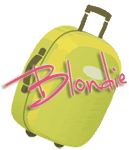 Blondie