Notes from the cocktail napkin
I had a good trip this week--two legs to San Diego (SAN) with a 32 hour layover, then worked three legs back home. While I was in SAN, the phone woke me up around 0900. It was the front desk letting me know I had a fax from the night prior. I made my way to the lobby, where the clerk at the front desk handed the fax to me and said "It was pretty funny." And it was! Complete with an official letterhead and photo on the page, our cat, Emmie had sent me a fax to let me know that the dog that was visiting smelled, Norm wasn't feeding her the good food that I do, and that she missed me. Loved it!
So--here are some of the notes from the serviette (cocktail napkin) shoved in and out of my pocket during this trip...
I was walking on the right hand side of the concourse, heading to my gate. Not in the middle of the concourse, just on the right hand side, following a few people in front of me--just walkin', single file, draggin' my bag, in an orderly fashion.
As I walk past a gate, I see a woman with a double baby buggy, inches from me. She had two babies in this double stroller, both appeared to be sleeping. She was
in the gate area
, facing the concourse. If traffic rules apply here, she would have to yield to oncoming traffic--me. Just as my body passed her, BAM! She drove her baby carriage into my rollaboard suitcase! I was so startled by this, I did not know what to say. So, I said what I have to say quite a bit as a Flight Attendant, "I'm sorry." And, she just looked at me, like I was evil.
She
rammed her kids into me...I was just walking along, following traffic...
Whatever, Wierdo...
------------------------------------------------------------------
Working so many hours without a break, the Company is contractually required to provide us with a crew meal. The only place to eat these meals is standing up in the galley. Conveniently located next to the galley is the lav (bathroom). People in line for the lav
stare
at us scarfing down our meal.
Jumpseat Confession:
What's up with that? Have they never seen a person eat before? Strange feeling for me, knowing the guy in 22C is staring at me while I shovel chicken and rice into my mouth. I felt like a freak show. Maybe I should sell tickets!
------------------------------------------------------------------
Saw these Cool Feet in a magazine--wrote it down so I could remember to
check it out
.

Also wanted to remember to friend Josie on Facebook. She's a terrific Flight Attendant I flew with this trip. We had flown together before and had a good time--she's so funny!
------------------------------------------------------------------
From Denver (DEN) to Tampa (TPA) I was the #4. During boarding, I am the "Greeter" and stand at the 2L Door, between First Class and
the Village
Coach
. After most everyone had boarded, a gentleman came up to me from First Class. From the gate, he had noticed the first passenger to get on, a young man who was on crutches because he was an amputee. His gear had military insignia on it, and with his haircut and demeanor, it was safe to assume his injuries were war related. The gentleman in First Class asked me if it was alright to switch seats with the young man in the back. "Of course," I said..."lets wait until everyone else has finished boarding." After locating him in the back of the bus (or the 757, as in this case!) the gentleman from First Class softly spoke with the young man, who didn't want to leave the friend he was traveling with. The friend insisted that he go, and as they changed seats, I carried the young man's bag to the front closet in First Class. His bag had his prosthetic leg standing straight up--and I could look down and see the inside of it. Carrying the bag to the closet, I could not hold back the hot tears of gratitude I felt for this soldier--it reminded me of
the song
with the words, "All gave some, some gave all." I was also very moved by the very generous offer of the gentleman from First Class. Some talk the talk--but, he walked the walk.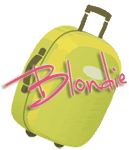 Blondie