Early Christmas present?
Did my 0500 Standby yesterday. Four hours of
Airport Appreciation
. Standby is an available Flight Attendant at the airport in case another can't work for whatever reason (car troubles, goes illegal, calls in sick, etc.) I spent my tour of duty in a big, fat
LaZ Boy chair
with my cell phone in my pocket and took a nap.
Last night, the Crew Desk called at 10 p.m. I was sure I was getting something that had a check-in at
oh-dark-thirty
, again. For whatever reason, the Crew Desk called to give me my trip that checks in at 3 p.m. this afternoon! I have
never
had this much notice--it was like being a kid on Christmas!
And my trip is a good one, too! Washington to San Francisco to San Diego tonight--with a 32 hour layover (!)--then work back to Washington on Tuesday via Denver and Tampa.
I am a very happy girl!
My View 1 Year Ago:
My CA-thee Cwaire
My View 2 Years Ago:
Captain as a Flight Attendant-not pretty!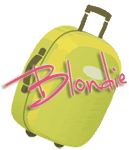 Blondie