A new 'do...
Let's see....surgery on Tuesday, haircut on Saturday. I had a crazed idea to cut my hair last week. And, Saturday morning, I asked Norm if he would drive me to the salon. (I am not supposed to drive just yet.) He agreed, and I made an appointment.
In my mind, I had long, golden locks--all flowy and princess-like. The sad reality is, with the exception of that 5 year period when I had perms in the '80's, my hair has been exactly the same since 1968. Straight. Parted a little off the middle. Added bangs when I became I high school senior. The sun miraculously kissed my hair over the years until I became hootchie-mama blonde. And, I loved it. It identified me. I became known as
Blondie
in my office.
It added 45 minutes to the time I had to wake up every morning to wash and dry and style my locks. Yes...when I had to meet a van to the airport at 4:30, I would set my alarm clock for 3:00 a.m. just to shower and fashion my sultry tresses.
The truth was my over-bleached strands, the color I called "
Cuervo Gold
" were just too much work, with very little payoff. They had to go...and go they did:
I am sooooo loving this new 'do! Less than five minutes, no blow-drying, Norm loves it....this is the best thing I have done for myself in a very long time!!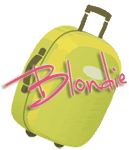 Blondie