'tater chips
I know--it's weird. Okay--
I'm
weird. I love grocery stores in other countries. And what I find myself most interested in is the potato chips. Specifically, the Lay's Potato Chips and all the
different flavors
that are available in other countries, but are not available here. Here is a sampling of the offerings available in Shanghai:
Italian Red Meat Sauce
Cucumber
Blueberry. Sweet and salty. I didn't care for them.
Texas Grilled BBQ
Lime
Mexican Tomato Chicken (not too bad...)
My favorite is good ol' Salt and Vinegar--what's YOUR favorite flavor?
My View 1 Year Ago:
Who Said It Was Glamorous?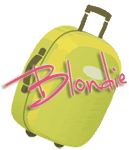 Blondie