Weekend in Munich
I was so excited last Thursday! Norm and I were able to get away together for a quick weekend in Munich. He had been before, and I hadn't. The flights were open, and we crossed our fingers for a fun getaway. With plenty of seats throughout the plane, we were able to go over in First Class and had a good flight with great Flight Attendants
.
After landing in Munich, we headed over to the train station, for the 45 minute ride to the City Center. The train station is across a plaza as you exit the front of the airport. As you walk out the door, there is an
Airstream trailer
that has been converted into and airplane/snack stand. Kinda cute, no?
We arrived at our train station and grabbed a cab to carry us the rest of the way to our hotel. The rearview mirror in the taxi was the meter! I thought that was cool--I've never seen anything like that before.
The Marienplatz
The Marienplatz in Munich is the heart of the City. We spent most of our weekend there--just hanging out, drinking beer, eating delicious German food, and watching the world go by.
Hofbrauhaus
We ventured over to the famous
Hofbrauhaus
. It struck me as odd--a funny juxtaposition--the Hard Rock Cafe across the street from one of Munich's oldest breweries.
The "oompah" band...
We sat outside in the biergarten and had dinner. Norm had this monstrosity--he had been looking forward to ordering it--he called it a pig's knuckle. (Looks more like the pig's knee to me!)
I had brats and sauerkraut...mmmmmm!
And, Munich has to be one of the friendliest cities in the world! We met so many people just hanging out. Sitting next to us in the biergarten was Michael, Karl and Mario. They were in Munich for the weekend, as well, having driven from
Corinthia, Austria
.
After our Austrian friends said goodbye, a new group of people sat at the table next to us. These are student teachers who are working in the DoD (Department of Defense) School system in Germany. They are teaching the kids of American ex-pats and trying to see as much of Europe as they can, while they can.
These young ladies bought pretzels while at the Hofbrauhaus--and that is the only size they sell there!
Our waiter carries these huge beer steins all night long. We saw him carrying 12 at once--he tells us his record is 17. Once his hands are full, he has the other mugs stacked up on top of the ones in his hands. I bet he has some nice guns (biceps)!
Norm, getting friendly with his bier....
The Marienplatz, Day 2
Spargel
was in season while we were there, and almost every stall was selling it. The white asparagus is sweeter than the green usually eaten here.
Found this dog just waiting outside the drugstore for his owner. I petted him--he was friendly, too!
The
Glockenspiel
(carillon) at the Rathaus.
After we saw the Glockenspiel, we went to the
Augustiner
brewery, and had dinner next to a couple who had taken their daughter to the
Munich premiere
of Hannah Montana. This little girl is apparently the only little girl in Munich who was unable to attend the premiere. She sat for a half an hour just staring at the picture of Miley Cyrus in the magazine she had in her hand. (I understand--I wasn't able to go see
David Cassidy
when I was a kid, either.)
The Marienplatz started filling up with soccer fans--
Munich Bayern vs. Schalke 04
is apparently a big rivalry. Schalke beat Bayern 1-0 and it was celebrated with a few biers and singing and chanting. These guys had been to the game and we just had a great time with them!
Dachau-Day 3
I just don't believe any words I might try to put here could adequately describe the feeling of overwhelming sadness I felt at Dachau, which was the first concentration camp, opened in 1933.
The only way in or out of the camp was through the wrought iron door, with the phrase "Work will set you free."
The museum adequately explained how it all happened. We had a tour guide who explained what a prisoner's daily life was like, and we went into reconstructed barracks. We walked through the actual holding chamber before entering the "brausebad" or shower--which was
a gas chamber
--then into a room that would be a holding room of the dead, prior to being cremated.
All I can do is type the words of what we did...I do not have the skills to describe how it felt.
One of the crematoriums....
The
haunting sculpture
at Dachau.
We took the bus back to the train, and the train back to the City Center, and walked from there to the hotel without saying much. I think we both needed to decompress from what we saw there.
~~~~~~~~~~~~~~~~~~~~~~~~~~~~~~~~~~~~~~~~~~~~~
A few hours later, we tried to go to an Italian restaurant recommended by my Austrian friend and fellow Flight Attendant, Claudia. Since it was Sunday, it was closed. I think, however, we found a
great replacement
.
A lovely, lovely place--and the pizza was so good (as is most pizza in Europe!)
We left on Monday morning, and were in our home by 5 p.m. And, since we haven't had
enough
travel--Norm left last night (Friday night) for London. His friend, Danny was having a party Saturday night. So, Norm arrived in London on Saturday morning--attended the party, and is flying home Sunday morning. That's a little too quick of a trip for me--he is flying like Flight Crews do!
And, if all the gods are on my side, I'll be going to Shanghai on Tuesday with my girlfriend Cherie. This is something we've talked about doing for the last two years--and now, time is running out for me to have time off to go--so...we are going to get expedited Chinese visas on Monday, meet in Chicago Monday night, and take the 747 to Shanghai on Tuesday. It's such a wild plan, put together at the last minute, that it just might work!
My View 1 year ago:
Welcome Home and my Redneck Daughters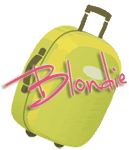 Blondie