Shanghai'd by the Aporkalypse!
After years of discussion, pleading and cajoling, Cherie and I decided it was now or never to go to Shanghai.
Cherie
is an
old stewardess
from way back in the days of girdles and white gloves. I joke her that she was
Orville and Wilbur's
Flight Attendant. (She wasn't--she just used to date them! Ask her about the time she and Wilbur got rip-roarin' drunk...)
Last week, we made it official--we would leave on Tuesday, May 5 out of Chicago (ORD) to Shanghai (PVG). The flight, a 747, was wide open--plenty of seats in First and Business. (Trust me, on a 14 hour flight, we are
not
going in Coach!)
Cute outfits? ✓
Map of shopping district? ✓
Laptop? ✓
Electrical outlet adapter? ✓
Frommer's guide? ✓
Passport? ✓
Crew badge? ✓
Chinese visa? uhhhh....
In reviewing the requirements to visit Shanghai, we knew we needed a visa. We both printed the forms and made our plans to visit the Chinese Embassy last Friday. A little digging on the
Chinese Embassy web site
, we found out that Friday was a national holiday for the Chinese--Labor Day. So, we went to Plan B. We'd get our rush visas on Monday. Cherie, who lives in Kansas City, would fly up to Chicago to get hers and I would simply drive to the Embassy here in Washington DC. We'd pay the extra money for the one day, expedited service. We'd have our visas in just a few hours time! We'd meet in Chicago that night and be ready to leave today.
Not so fast, Grasshopper!
As I was about to turn off my computer Sunday night--I did one last check of the Embassy's web site--just wanted to be sure I had
"crossed my t's and dotted my i's".
And there is was, in not-so-big red letters:
URGENT NOTICE ON ADUSTMENTS OF VISA APPLICATION PROCESSING
Hmmmmm...lemme click here and see what this is....<
clickety-click

>
Effective since May 4th 2009, the Chinese visa processing time will be changed to 6 business days while the express and rush service for visa applications will also be suspended. Meanwhile,all Chinese visa applicants shall complete and submit the Declaration Form (Download PDF form/Word form).
That mournful wailing you heard just after midnight was me. I'm sorry, I did not mean to wake you...
I was able to get in touch with Cherie before she left for the airport for her 6 a.m. departure to Chicago. Late in the morning, Norm suggested we use a visa service. We called around and found one place that seemed to have the answers. The Chinese Embassy had called them early that morning to let them know they were stopping the rush services because of the swine flu.
What the hell??
(Don't get me started on what I think about the mass hysteria over a flu virus...)
Now, we are well into Plan C. I dropped off my visa forms at
Washington Visa and Passport Service
and Cherie has Fedexed hers there. We'll wait our 6 days like normal people do and let them handle the details. We'll try again in two weeks.
Cherie and I have been on the phone several times today. Yesterday was such an aggravating day--and we are so bummed that we aren't on our way to China today...
To us, this feels like
Hamegeddon
....
(Thanks for the picture, Sherri!)
My View 1 year ago:
For Duncan
(By the way, Duncan--you are still missed! What is Marlene up to these days?)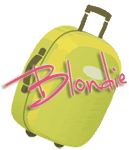 Blondie