Emmie's View from 8 Feet*
Psssst! Hi! It's me, Emmie. My Mom's been kinda busy, so I thought I'd help her out a bit. You see, I sit up here on top of the bookcase and can see everything that goes on around here. I also scratched my way into her tote bag and grabbed her camera--let's see what she's been up to.
She had a couple days off last week and made some delicious
Vietnamese Summer Shrimp Rolls
.
She must have been very, very happy with the spring rolls after she ate them, because she scratched behind my ears for an extra long time! Mee-ow!
A couple days later, we went to bed early because she was pretty high up on the Reserve List. I was all curled up next to her belly, when she got The Call, from The Voice at 11:30 that night. She had to be at work at 5 in the morning. I did not like that because I love to
make biscuits
on her belly--it is very warm and makes me sleepy.
She was pretty happy with the trip--one leg to Denver (DEN), no sit time, then a leg to Orange County (SNA) and done at 10:20 in the morning. And, she flew with a couple of great Flight Attendants, which she says makes the trip so much more fun! With a 20 hour layover in SNA, there was plenty of time for Mom to relax and enjoy and get a great night's sleep.
Of course Mom, in her infinite weirdness, had to use Sara's "Remote Condom" idea over at
The Flying Pinto
.
Mom and Natalie, one of the Flight Attendants she was flying with, walked to the
The Block at Orange
, which is near their layover hotel. They had lunch at
Johnny Rockets
and walked around the outdoor mall for awhile. The weather was fantastic: clear, warm, and not humid!
While they were at the Block at Orange, they saw
this
tee-shirt design. As a friend of
Hello, Kitty
, I did
not
think this was funny.
Back to the hotel, where they agreed to meet a few hours later for a bite to eat and an adult beverage, Mom took a nap. She woke up when Casey texted her to tell her Michael Jackson died. Shocking! While he led a less than desirable life (in my humble opinion), there is no debating his impact on the world of entertainment. Mom told about her former roommate, Jilda--how they blasted the speakers listening to the "
Thriller
" album back in the olden days...
Natalie and Mom had dinner here at the hotel, sitting outside in this lovely little slice of paradise right off Interstate 5.
Early the next morning, they all flew from SNA to San Francisco (SFO). They were absolutely thrilled to finally have a flight that wasn't "packed to the gills"--even if it was only an hour flight
The view out of Mom's window at her jumpseat, just before landing in SFO.
With just enough time to grab a bite to eat , they worked the flight back to Washington. It was a full Airbus A320, and a "catering test flight." It was interesting to Mom to see some of the new menu items her Company was trying out. She worked the "BOB" (Buy Onboard) cart and felt like a cashier at a busy
7-11 store
!
Now she's home for a few days, and the
Most Amazing Child on the Planet
is coming to visit tonight for a couple of days. That's okay--I like him--he's a good "behind the ear scratcher", too!
*Thanks to
Sheila
for the good title!
My View 1 year ago:
In the land of Boeing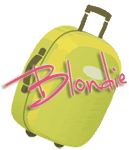 Blondie