My favorite 19 year old!
Chillin' with my son today. Burgers on the grill, corn on the cob...and hanging with a pretty cool young man. What a great way to spend my day!
Chase with his first girlfriend, Danielle.
Chase and me at a wedding.
Snowboarding in West Virginia.
Last year's senior picture.
I ♥ my Chase!
My View 1 year ago:
Anticipation Is The Greatest Spice!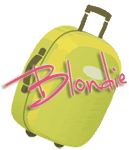 Blondie