The Perfect Boyfriend
Norm and have decided to get married in October. Won't be a big "to-do"--we'll probably get married at the courthouse and then take a trip together. He says Lisbon, Portugal--I think I want to go sailing for a few days. We'll figure it out...
In the meantime, I have this....doll that I have had for years. I'm sure I bought it in an airport somewhere. It's the
Perfect Boyfriend.
I've asked Norm to practice with it
(he'll have none of this nonsense, thank you!)
The Perfect Boyfriend says all the right things at just the right time, all I have to do is push his tummy in...here, take a listen. I put him up on the fireplace mantle and made a lil' video:
Truth is, to tell me goodbye this morning, the real Perfect Boyfriend scooped me into his arms as I was lying in bed and told me he hoped I would be home and not flying when he got home tonight.
Maybe the doll could go on eBay?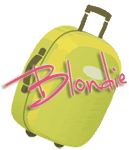 Blondie