Welcome back!
G'mornin', ya'll!
It's about 5:25 a.m. and I am back at work, sitting in our Crew Lounge. There are only a couple of people here this early, and they are in more comfy chairs, napping. I have to be vewwy, vewwy quiet right now...
Because I did not attend my annual Recurrent training while I was on my Leave of Absence, I had to pass 3 days of "re-quals" in Chicago (ORD) this week. I had to requalify and demonstrate that I can at least fulfill the FAA requirements for my job.
Some of the things we did include CPR (Cardio-Pulmonary Resucitation) and AED (Automatic External Defibrillator), all of the doors for all of our airplanes--Airbus 319/320, and Boeing's 737, 747, 757, 767 and 777. We had a strong Security section (if I told ya about that, I'd have to kill ya!) did timed door drills with lots of Evacuation scenarios. We spent more time then ever on Ditching procedures--there was a real emphasis on this. I wonder if the
US Airways incident
into the Hudson River had anything to do with that--or had it already been planned? In any event, I am fully prepared to launch the Life Raft, and use the Survival Skills and Techniques we learned this week.
Oh, just so you know...the book in the Survival Kit, written long ago by the US Air Force, offers this tip:
Do not touch the native women. (
Ummmm, okay, I won't.)
So, home Thursday night, with Friday to prepare for my five days on Reserve starting today (Saturday). Tons to do--first of all, sleep in. Up at 9:30 a.m.--I barely took time to check my e-mail. Packing my bags, after three months off, was quite the chore. Filling up all my bottles of shampoo, lotions and potions, putting together a cute outfit that is all weather proof (who knows where I'll end up in the world), Oh! Don't forget the new
People
magazine... Wait! Where is my iPod? And,
ohmygawd!
I have to get my nails done before I go back to work....I was
bi-z
ee yesterday!
I have been looking forward to getting back to flying. So very different from my other airline, but, I've decided to embrace the Company culture I'm in and to quit resisting it. I am going to stay here--and I come back to work with a new attitude and a positive approach.
So, I looked at all the trips in the computer for today--doesn't matter where I go, I just wanna go! There is a cool trip--on Day One, it leaves Washington (IAD) and goes to Cancun (CUN), then heads to Chicago (ORD). Long layover (20+ hours) in ORD then goes to Amsterdam (AMS) on Day Two. Day Three is a long layover there in AMS, then return to Washington on Day Four. The first day of the trip is a ball-bustin' long day, but over all the trip is
suh-weet
for a Reserve person. It has an early morning sign-in, and I am number one on
The List
. Maybe, just maybe...
Around 9 p.m. last night, the phone rang--it was The Voice: Crew Scheduling calling to give me my assignment. Was I going to get that groovy CUN-AMS trip?
Oh, hell no!
I was given 5 a.m.
Standby
. Also known as
Airport Appreciation.
Yuck.
(At least The Voice called at a decent hour. They are required to give at least four hours notice, and it is not unusual for them to wait until 1 a.m. to call you. I'm grateful for the early call, so I was able to get
some
sleep.)
So, here I am, sitting in the very quiet Crew Lounge--not even 6 a.m., waiting for a trip. If someone gets delayed for a trip, I am here to cover their position. If nothing happens, and I am not needed, I'll go home at 9 a.m. Norm will still be in bed when I get there.
Comfy seats in the almost empty Crew Lounge.
Hollywood lights, and ironing board and shoe shine thingee, in the Crew Lounge.
Even having to sit Standby, it really
is
good to be back!
Update, 7:20 p.m.
OMIGAWD! I have to go back to work tonight! As I was snoozing in the chair in front of the TV--remember, I got up at 3 this morning--the Crew Desk called and assigned me a deadhead flight to Boston (BOS). I guess when I am scheduled to report IS legal--it will have been 12.5 hours--but holy crap! What a way to work--not!
My View 1 Year Ago:
Celebs Onboard
.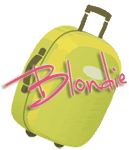 Blondie