Last week
With Norm preparing to head to Germany and Africa for the next year, it was time to tie up loose ends.
On Wednesday morning, he kissed me good bye and said, "I'll be home around 2--let's go get our marriage license."
That cold and rainy afternoon, we drove to the courthouse in Alexandria. Walking through the wet streets of Old Town, he pulled me closer to his side. The rain, the cold, the brick street--the silence between us, the knowing between us, our quick steps --it all felt soulful.
After receiving our license, he called one of the celebrants on the list--could we get married today? Yes? Now? Yes.
We parked almost in front of the attorney-celebrant's office. Two things about the location of this parking spot--it is directly in front of the restaurant where we met almost 9 years ago. And, it is the only free parking spot in Old Town Alexandria. (Efficient
and
a good value. These are things that are important to Norm!)
The elevator door opened into the reception area. "Your 'wedding' is here," the receptionist informed the celebrant on the phone. (I suppose a big poofy white dress would have been proof that we were 'the wedding'...but Norm and I were in jeans. Maybe it was the looks on our faces...)
The attorney greeted us, led us into a small conference room, reviewed our license, asked a couple of questions..then we stood up...
Facing each other, and holding hands, we began.
"Do you...?" the celebrant asked.
"I do," Norm replied.
Do you...?" the celebrant asked of me.
"I do."
Kiss. Big hug. Kiss.
It was perfect for us.
We went next door to
King Street Blues
. The town drunk (as defined later by the bartender) asked could he kiss the bride. It was so special, just the two of us. And the drunk!
Yesterday, he left for 3 weeks of training. He'll come home for a few days, then head over to Germany. I'll be able to see him, hopefully frequently. He'll be an hour's train ride outside of Frankfurt.
Yes, Frankfurt. My home away from home. The city I have been to the most this year.
And now that my new husband is there...let's take bets on how often I get a FRA trip. I'll bet that I never see it again on a layover...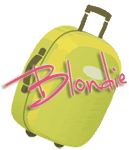 Blondie